EmotionalBaking
Feel. Bake. Better.


ambitious

lime coconut granola bars.
I feel
ambitious
in a driven yet equally flexible way. I like it. It's fun. It's the perfect time to be creative! Here's what I'm thinking – out of all the possibilities, select a unique few, put them together, adapt/shift as needed, stop when I find something that works. Simple. When all is said and done, I'll have had lots of fun and can enjoy/eat my creation. I think I'll bake.
I'm feeling...
something that's as inspired as I'm feeling,
something that keeps me rooted in this zone,
something that's a new take on an old favourite,
something with an earthy, sweet and citrusy taste...
I'm ambitious
I'll bake
Lime Coconut Granola Bars
Earthy, Sweet, Citrusy
Fresh
These granola bars with ingredients like honey, lime, and coconut come together for a taste that's surprisingly fresh and simple.
lime coconut granola bars.
Prep time: 15 minutes, Cook time: 10 minutes, Chill time: 2 hours
Makes: 10 bars
Ingredients
2 ½ cup (236 g) rolled oats
1 ½ cup (54 g) rice krispies
½ cup (46 g) fine unsweetened coconut flakes
¼ cup + 3 tbsp honey
¼ cup (56 g) salted butter
2 tbsp (24 g) brown sugar
2 tbsp lime juice




Instructions
I'm excited!
Line an 8x8 square dish with parchment paper. Set aside.
In a medium bowl, add the oats, puffed rice, and coconut flakes. Mix together then set aside.
Coool!!
In a medium pot, set over medium heat, melt the sugar until caramelized, 2-3 minutes. Mix in the butter until fully melted. Add the honey and stir well. Turn off the heat.
Stir the oats mixture into the pot until well coated.
Stir in the lime juice.
It smells so good in here!
Pour the oat mixture into the lined dish, pressing it firmly into the tray.
Refrigerate for 2 hours until set. (Note: when eaten directly out of the fridge it'll be crispy. If after it's set, it's left out at room temperature it'll be a little more on the gooey side, but it'll hold together nicely.)
Remove the granola from the tray and cut it into bars.
These granola bars check all the boxes – they're unique, sweet, and satisfying. They're an impressive win for the ambitious mood.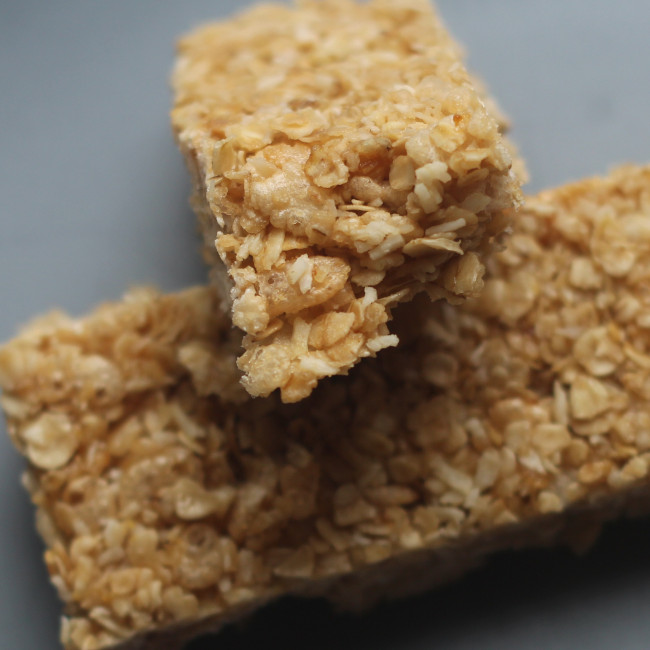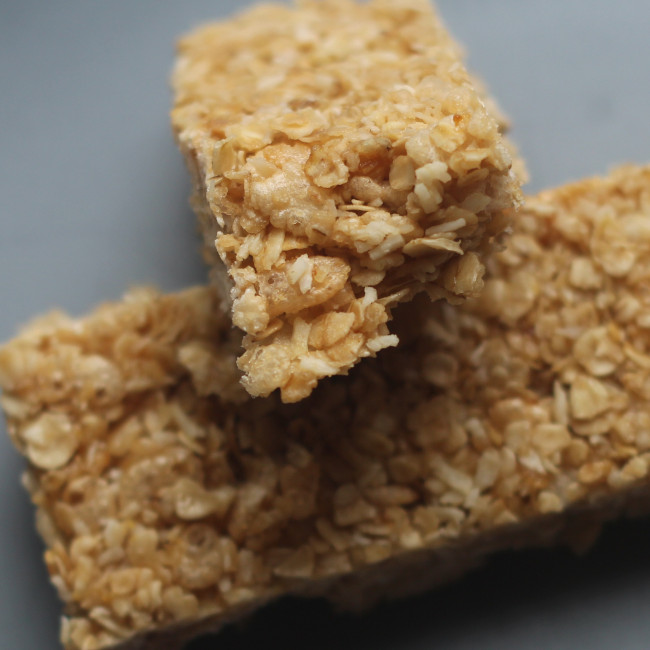 Baking can be a lot of things – it can be distracting but simple, it can be movement with focus, it can be whatever you need when you need it. Choose a recipe to fit the mood and it becomes a useful tool as well – baking to quiet the mind, to connect with your emotions, or simply baking to feel emotional. Just think of the feelings you get and the emotions you experience when baking your favourite dessert…. excitement, relief, fulfillment, joy, accomplishment.
At Emotional Baking, our recipes can be the starting point to somewhere - it can lead you to a place of great comfort, one that feels like the beginning of something, something good...
A note for anyone who needs it:
Baking, while wonderful, can only help so much...
If you're struggling in any way,
If you feel alone or you need help,
Contact your primary care physician or follow the links below to find help in your area. You are never alone!
For Canada:
or
For United States:
Worldwide: