EmotionalBaking
Feel. Bake. Better.


wednesday

luscious fudgy brownies.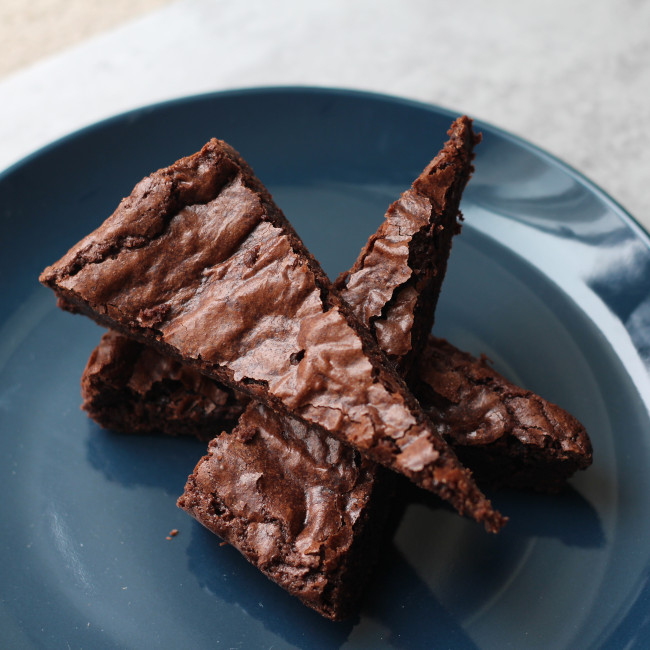 It's an ordinary day, nothing new or noteworthy's happening. It's business as usual but something's missing. What? Wait. What's today? It's not Monday (because that would be obvious). It's certainly not Friday or the weekend - nothing exciting is happening. It's probably one of the middle-of-the-week days. Checking the calendar…it's Wednesday. So, it's going to be like any other day smack dab in the middle of the week. Or it's the second longest and equally toughest day of the week (behind Monday)...
Then it hits you ... déjà vu ... what day is it? Never mind, you can shape whatever day it is any way you want and enjoy it just as much. It's time to own Wednesday (and bake)! And bake brownies. Not just any brownies. Exceptional brownies. Luscious brownies.
I'm feeling...
Brownies...
that are decadent in flavour and richness, and deliciously chocolatey,
with an incomparable chewy texture,
that are relatively easy to make with only a handful of ingredients needed,
that add a little spin on an otherwise long day,
with each bite tasting better than the last.
It's Wednesday
Bake
Luscious Fudgy Brownies
Decadent, Chewy, Chocolate
Memorable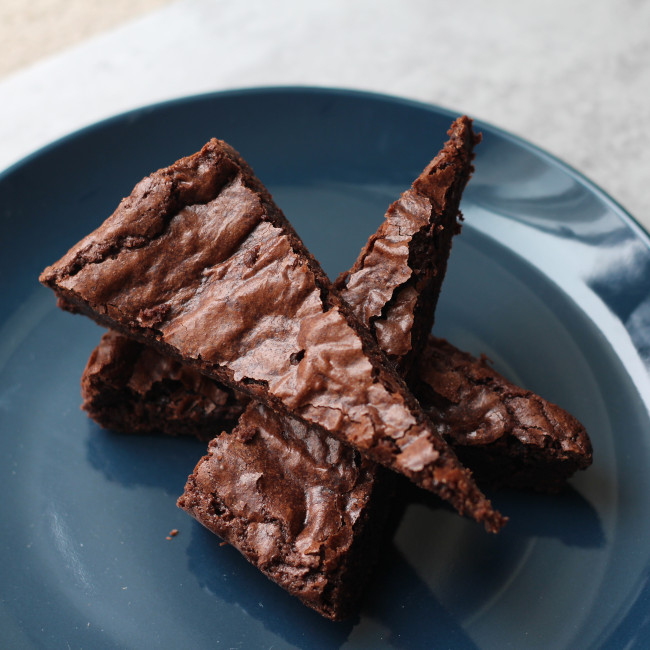 These brownies are full of flavour and fun - everything Wednesday deserves. You can make this Wednesday more memorable. Start with baking.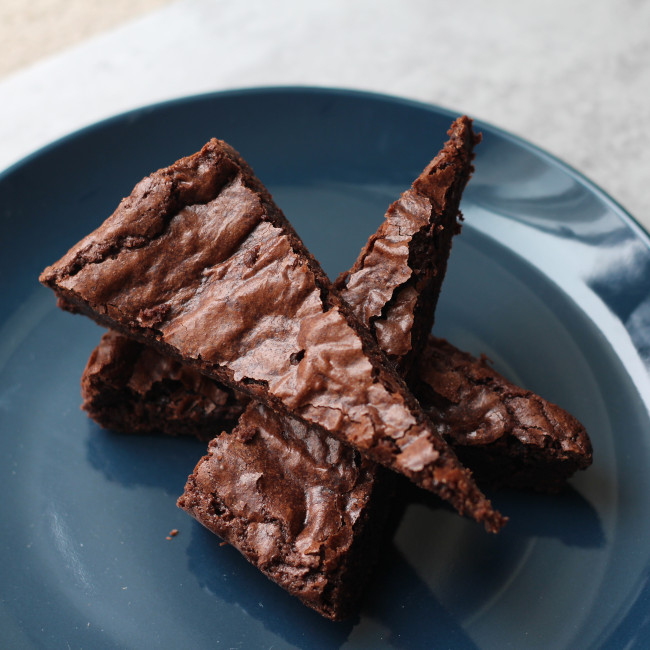 Prep time: 25 minutes, Bake time: 25 minutes
Makes 9 squares
Ingredients
¾ cup (170 g) unsalted butter
3 oz (90 g) semi-sweet chocolate chips
2 large eggs, at room temperature
1 ½ cups (300 g) granulated sugar
2 tbsp flavoured coffee creamer such as Bailey's (non-alcoholic) coffee creamer or for a grown-up taste Bailey's Irish Cream
¾ tsp coarse salt
½ cup (40 g) cocoa powder
½ cup (70 g) all-purpose flour






Instructions
Time to own it!
Preheat the oven to 325°F.
Line an 8-inch square pan with parchment paper. Set aside.
Add chocolate to a heat-proof bowl and set aside.
...a great start.
In a medium saucepan set over medium heat, melt the butter. Continue to cook the butter for 3-5 minutes, stirring often, until it takes on a golden-caramel colour and has a mildly nutty scent.
There's nothing "ordinary" about this!
Once the butter has browned, pour it into the bowl with the chocolate and let it rest for 1 minute. Whisk the mixture until it is well incorporated. Immediately whisk in the eggs, sugar and Bailey's. Add salt and stir.
Sift the cocoa powder and flour together then fold it into the chocolate mixture.
Magic!
Spread the batter into the pan and bake it for 25-30 minutes or until a toothpick inserted comes out with a few crumbs. Cool the brownies in their pan until set, about 15-20 minutes.
These brownies only help to make the day stand out from the everyday. The rest is up to you! You've got this!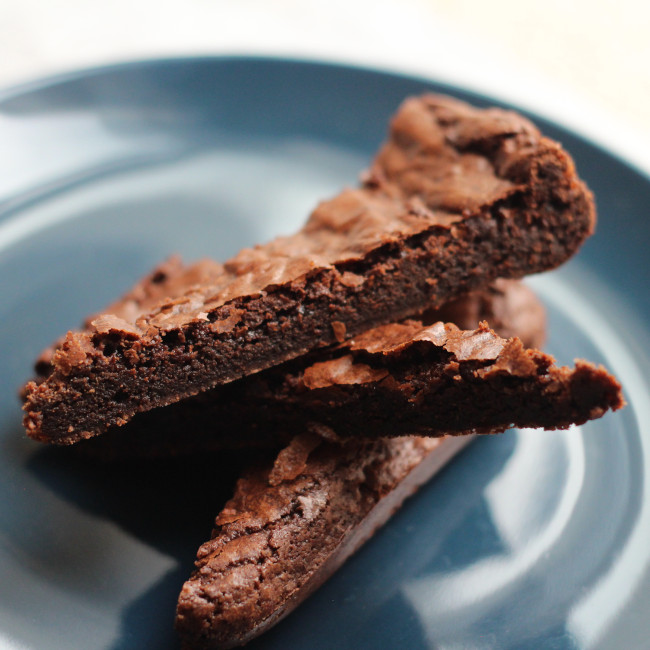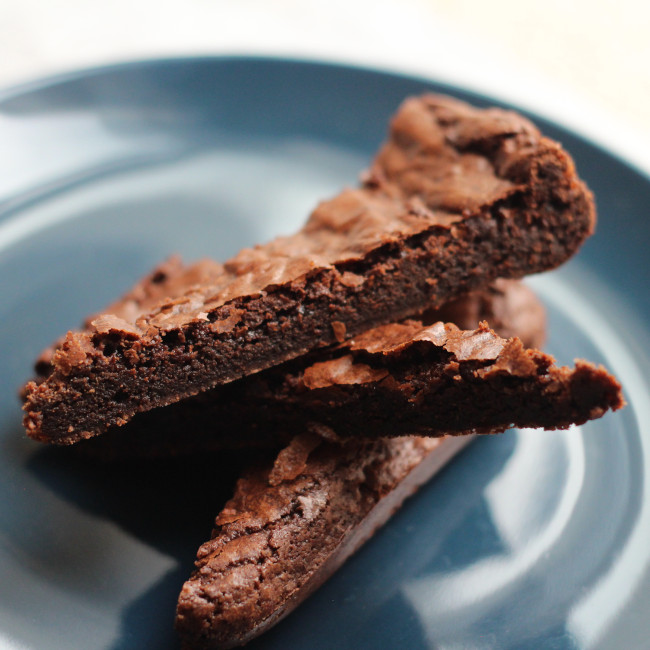 Baking can be a lot of things – it can be distracting but simple, it can be movement with focus, it can be whatever you need when you need it. Choose a recipe to fit the mood and it becomes a useful tool as well – baking to quiet the mind, to connect with your emotions, or simply baking to feel emotional. Just think of the feelings you get and the emotions you experience when baking your favourite dessert…. excitement, relief, fulfillment, joy, accomplishment.
At Emotional Baking, our recipes can be the starting point to somewhere - it can lead you to a place of great comfort, one that feels like the beginning of something, something good...
A note for anyone who needs it:
Baking, while wonderful, can only help so much...
If you're struggling in any way,
If you feel alone or you need help,
Contact your primary care physician or follow the links below to find help in your area. You are never alone!
For Canada:
or
For United States:
Worldwide: