EmotionalBaking
Feel. Bake. Better.

thoughtful

hot chocolate affogato.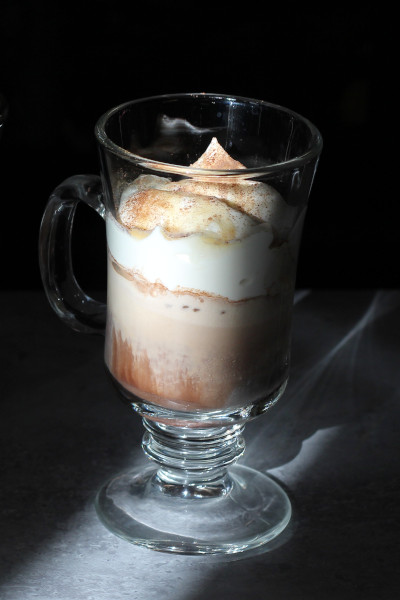 I always feel
thoughtful
around this time of year. Sometimes it's at odds with the hustle and bustle in the air and the ease with which I get swept up in it… I have a plan though - drink hot chocolate in front of a roaring fireplace, stare at Christmas tree lights until midnight or my eyes feel heavy (whichever comes first), watch the snow fall on a dark, quiet night. It all sounds magical! I think I'll do it all but first, I think I'll *bake*.
I'm feeling...
something that'll be the perfect kick off for all the items on the list,
something that's easy to linger over and so, will extend the enjoyment,
something that's uncomplicated yet tastes artistic,
something that's hot, rich, chocolatey...
I'm thoughtful
I'll bake
Hot Chocolate Affogato
Hot, Rich, Chocolatey
Linger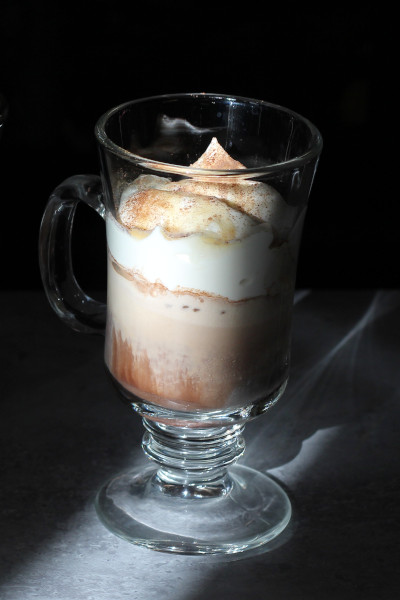 This treat is unlike any other – the hot chocolate melts the ice cream on contact - creating this creamy, warm, sweet mosaic of flavours. It's topped with a large dollop of whipped cream, drizzled in sweet caramel sauce, and finally dusted with cocoa powder and cinnamon, creating a masterpiece to be enjoyed with family and friends or solo on a thoughtful evening by the fire.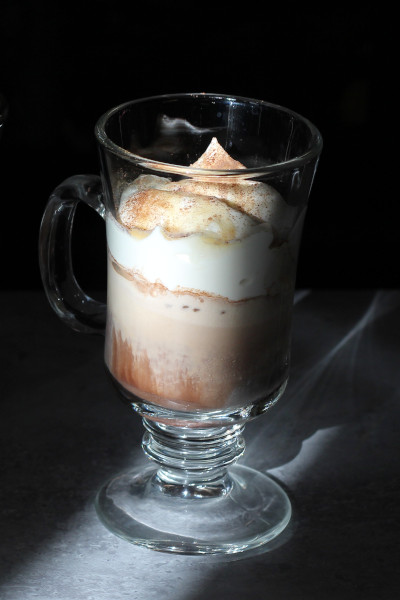 Prep time: 5-10 minutes
Makes 2 cups
Ingredients
2-4 scoops French vanilla ice cream
Hot chocolate, premade
½ tsp cocoa powder
½ tsp cinnamon powder
1-2 tbsp caramel sauce
Whipped cream (premade or follow the recipe below):
250 ml heavy cream
1 tbsp granulated sugar
½ tbsp vanilla extract
Instructions
Let's enjoy the night...
Make the whipped cream (omit if using the premade variety): In a small bowl, whip the heavy cream with the sugar and vanilla until stiff peaks form. Set aside in the fridge.
Easy? Check!
Make 1 cup of hot chocolate following the package instructions.
Uncomplicated? Check!
In 2 cups (irish mugs, teacups, whatever you have), scoop 1-2 scoops of French vanilla ice cream into each. Pour the hot chocolate over the ice cream.
Fun? Check!
Dollop whipped cream on top then drizzle the caramel sauce and dust with cocoa powder and cinnamon powder. Serve immediately.
It's the *season* in a cup – all twinkly-lights-warm-by-the-fire-as-the-snow-falls-around-you beverage that has it all.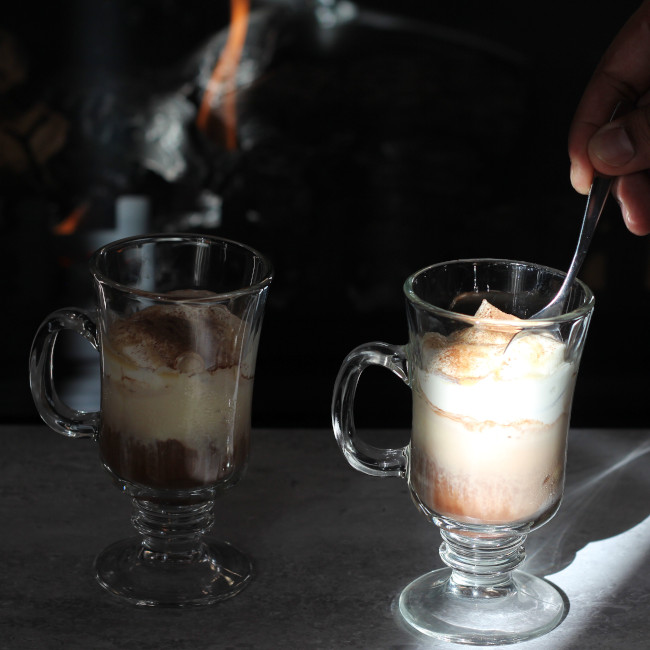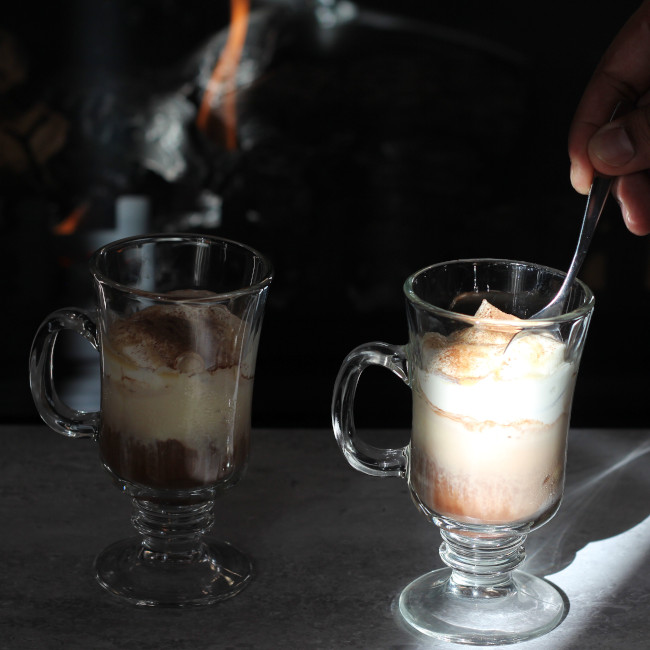 (Recipe and Photos courtesy of Emotional Baking©)
Feel. Bake. Better.
It's not just about baking something to get you through the day.
It's not about eating the whole tray to feel better.
It's about getting lost in the process.
It's about enjoying every moment.
It's about sharing it with people that support and care about you.
Baking can be a lot of things – it can be distracting but simple, it can be movement with focus, it can be whatever you need when you need it. Choose a recipe to fit the mood and it becomes a useful tool as well – baking to quiet the mind, to connect with your emotions, or simply baking to feel emotional. Just think of the feelings you get and the emotions you experience when baking your favourite dessert…. excitement, relief, fulfillment, joy, accomplishment.
At Emotional Baking, our recipes can be the starting point to somewhere - it can lead you to a place of great comfort, one that feels like the beginning of something, something good...
A note for anyone who needs it:
Baking, while wonderful, can only help so much...
If you're struggling in any way,
If you feel alone or you need help,
Contact your primary care physician or follow the links below to find help in your area. You are never alone!
For Canada:
or
For United States:
Worldwide: