EmotionalBaking
Feel. Bake. Better.

cramped

banana walnut pancakes with maple cream.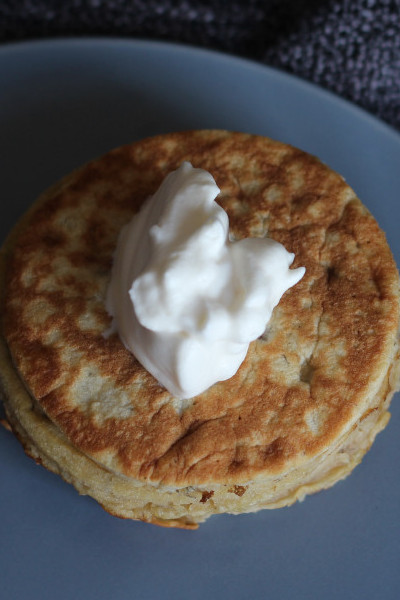 It's that
cramped
feeling again. Why? Let's see - it's midway through a busy week month, it's chaotic with no signs of slowing down, and it's always this busy. It's a habit because, and this is the worst part, it's possible to do it all. It's possible but it's stressful and that means no fun. Let's slow things down and take a few items off the list. This habit of being busy all the time, it's getting old.
Let's make a new plan - one that's not so stuffy. And when the new plan looks good, add something that's just for you, something that makes the week feel better. It can be anything – a coffee date with an old friend, a class or workshop to make new friends, a walk around the block, a small break from the usual…it's your choice. Start with something to shift your focus and add a little fun. Contemplate this
cramped
feeling (and bake)!
I'm feeling...
Actually, not bake. Make. Make pancakes. Banana Pancakes. Banana pancakes with cream.
Pancakes...
that are crispy, fluffy, sweet,
with a welcomed, comforting scent to fill the air,
that're super easy to make and satisfying to eat,
with simple steps to enjoy as you take time for yourself,
that's a delicious way to change things up from the usual...
Cramped?
Bake
Banana Walnut Pancakes with Maple Cream
Crispy, fluffy, sweet
Comforting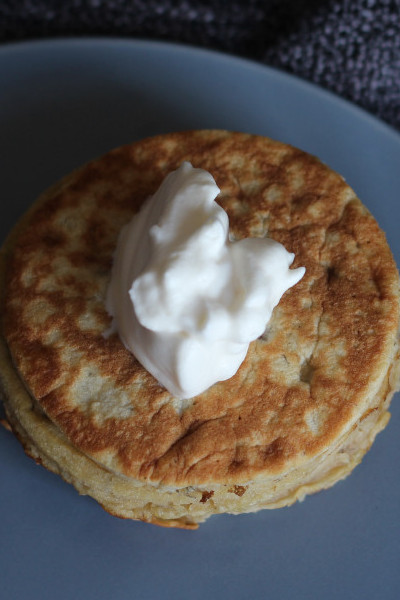 These pancakes are what you'd expect – effortless, simple, satisfying and comforting. They're a great way to get through the cramped day.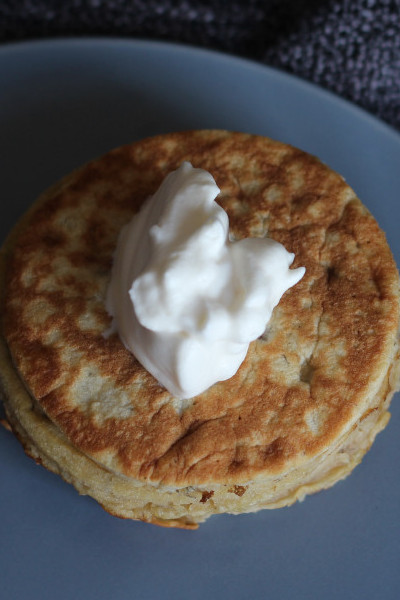 banana walnut pancakes with maple cream.
prep time: 10 minutes, cook time: 15 minutes
Makes 6 pancakes
Ingredients
1 large banana, mashed
1 cup + 2 tbsp (166 g) all purpose flour
1 tsp baking powder
½ tsp baking soda
3 tbsp (40 g) brown sugar, divided
2 tbsp (28 g) salted butter, melted
1 cup milk
1 large egg
3 tbsp water
1 tbsp vanilla extract
¼ cup (28 g) chopped walnuts
Maple whipped cream
250 ml whipping cream
4 tbsp maple syrup


Instructions
Time to change things up!!
Mash the banana in a medium mixing bowl.
Add the butter, milk, egg, water, and vanilla to the mashed banana and stir until well-mixed.
Simple. Easy. Yummy!
Add the flour, baking powder, baking soda, and brown sugar to the banana mixture. Gently mix until just combined. Stir in the walnuts.
It's looking good.
Heat a non-stick skillet over medium low heat. Add oil to the skillet.
Add ¼ cup of batter to the skillet. Cook each side of the pancake for 2-3 minutes until lightly browned.
That familiar and delightful smell in the air. These pancakes would go great with tea or coffee.
Make the whipped cream: In a separate bowl, whip the heavy cream with the maple syrup until stiff peaks form. Serve.
The maple cream is the perfect finishing touch for these pancakes. It's a delicious combination that goes well with the changes you're about to make. And remember, just because you can, doesn't mean you should.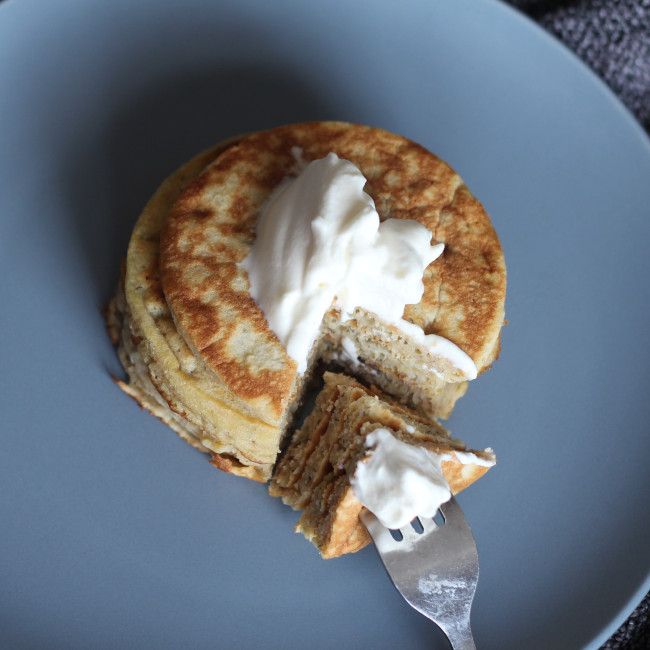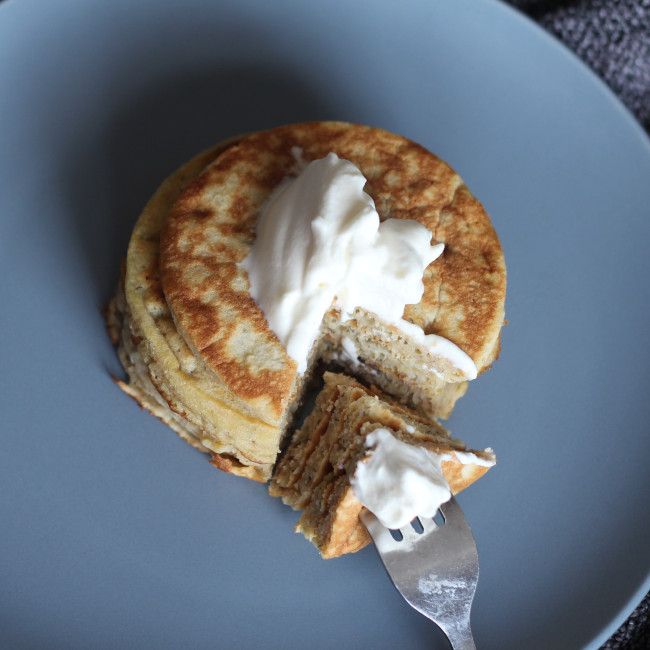 (Recipe and Photos courtesy of Emotional Baking©)
Feel. Bake. Better.
It's not just about baking something to get you through the day.
It's not about eating the whole tray to feel better.
It's about getting lost in the process.
It's about enjoying every moment.
It's about sharing it with people that support and care about you.
Baking can be a lot of things – it can be distracting but simple, it can be movement with focus, it can be whatever you need when you need it. Choose a recipe to fit the mood and it becomes a useful tool as well – baking to quiet the mind, to connect with your emotions, or simply baking to feel emotional. Just think of the feelings you get and the emotions you experience when baking your favourite dessert…. excitement, relief, fulfillment, joy, accomplishment.
At Emotional Baking, our recipes can be the starting point to somewhere - it can lead you to a place of great comfort, one that feels like the beginning of something, something good...
A note for anyone who needs it:
Baking, while wonderful, can only help so much...
If you're struggling in any way,
If you feel alone or you need help,
Contact your primary care physician or follow the links below to find help in your area. You are never alone!
For Canada:
or
For United States:
Worldwide: