EmotionalBaking
Feel. Bake. Better.

cautious

chocolate dipped gingery banana slices.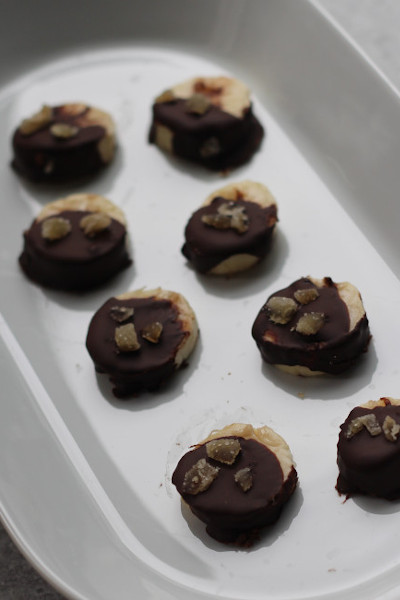 I'm in a
cautious
mood today. It's safe but it's wearisome. Being careful, thinking things through, deliberating, then revisiting it again is tiring…I'm not even sure if it's necessary. While I work it out, I think I'll bake.
I'm feeling...
something that sits well with this mood but takes a slight (yet calculated) step outside of it,
something that can be thrown together easily,
something that's familiar but with a twist,
something that's fruity, gingery, bittersweet...
I'm cautious
I'll bake
Chocolate Dipped Gingery Banana Slices
Fruity, Gingery, Bittersweet
Bold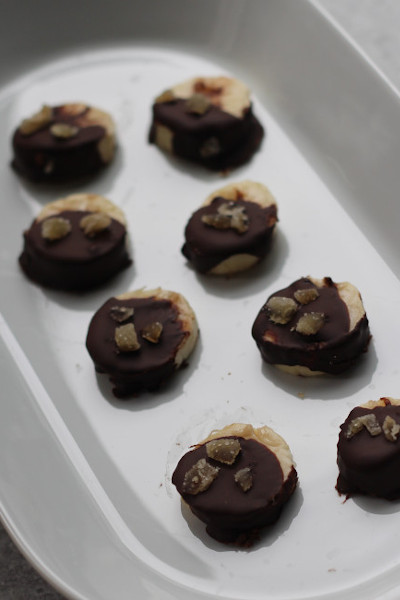 These banana slices fit so well with the mood they feel tailor made to it. It's banana (familiar) with crystalized ginger (caution to the wind) and dark chocolate (in a delightfully unexpected way). Pleasantly bold!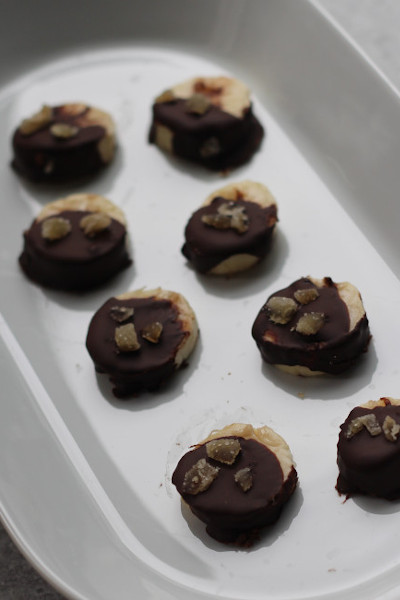 chocolate dipped gingery banana slices.
Prep time: 10 minutes, Chill time: 10-20 minutes
Serves 4
Ingredients
1 medium banana, sliced cross-sectionally
30 g dark chocolate, melted
3 rounds (20 g) of crystallized ginger, minced


Instructions
Let's change the pace a bit...
In a small bowl, melt the chocolate in the microwave. Start with 15 seconds at a time, until the chocolate is just melted. Stir well.
Dip the banana slices three quarters of the way into the melted chocolate.
Fun!
Sprinkle the crystallized ginger over the chocolate side of each banana slice.
Easy!
Refrigerate for 10-20 minutes.
If these banana slices have anything to say it's that there's a way to be safe and bold at the same time!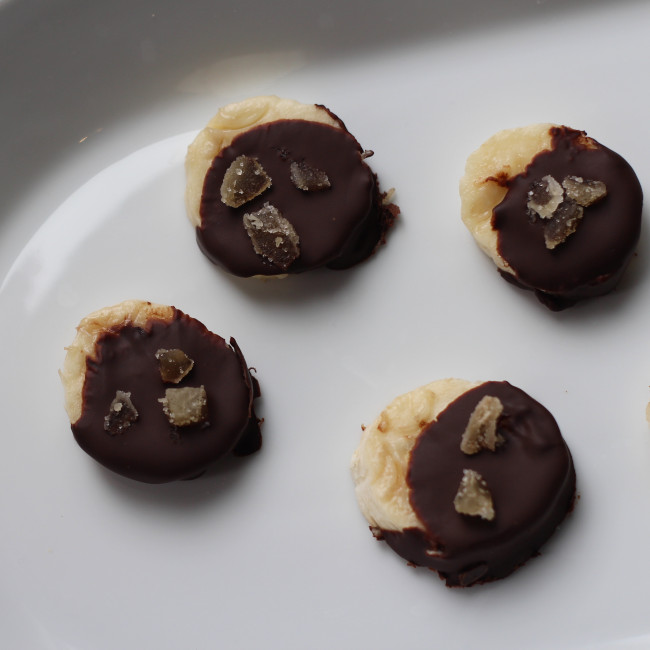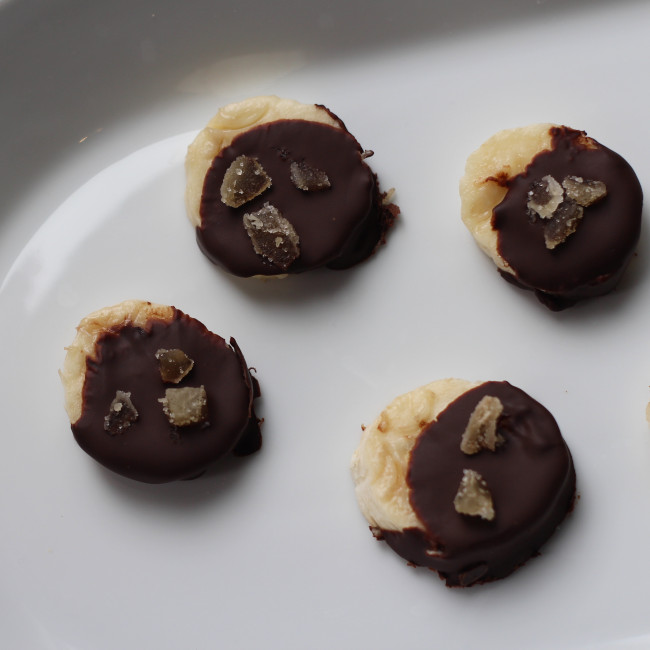 (Recipe and Photos courtesy of Emotional Baking©)
Feel. Bake. Better.
It's not just about baking something to get you through the day.
It's not about eating the whole tray to feel better.
It's about getting lost in the process.
It's about enjoying every moment.
It's about sharing it with people that support and care about you.
Baking can be a lot of things – it can be distracting but simple, it can be movement with focus, it can be whatever you need when you need it. Choose a recipe to fit the mood and it becomes a useful tool as well – baking to quiet the mind, to connect with your emotions, or simply baking to feel emotional. Just think of the feelings you get and the emotions you experience when baking your favourite dessert…. excitement, relief, fulfillment, joy, accomplishment.
At Emotional Baking, our recipes can be the starting point to somewhere - it can lead you to a place of great comfort, one that feels like the beginning of something, something good...
A note for anyone who needs it:
Baking, while wonderful, can only help so much...
If you're struggling in any way,
If you feel alone or you need help,
Contact your primary care physician or follow the links below to find help in your area. You are never alone!
For Canada:
or
For United States:
Worldwide: